You've done the work of picking the perfect watermelon and hauling it home, despite a weight that is roughly equal to that of a small toddler. Now it's time to enjoy your watermelon. Skip the boring cubes and opt for one of these watermelon hacks instead, which give you all of the same great taste and refreshment of plain, sliced watermelon, but with way more fun. Because, c'mon, watermelon was made for fun.
Plus, there's so much of it. Who doesn't need more creative serving ideas?!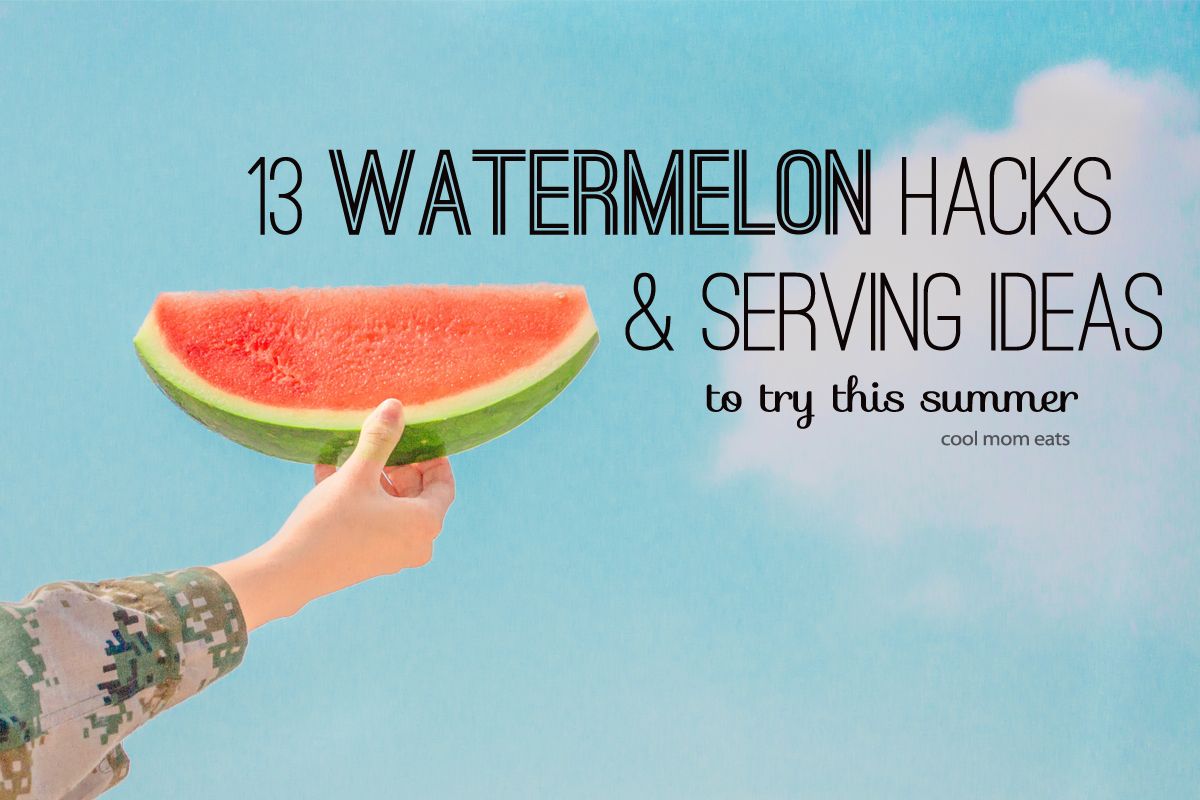 Related: 11 awesome ways to serve watermelon.
Gina at Running to the Kitchen describes this drink as the fruit version of a Wendy's frosty, which is all the convincing I need to try this refreshing, summery drink. The Watermelon Frosty uses lime, honey, and another tropical fruit to compliment the delicate watermelon flavor for an ideal poolside treat.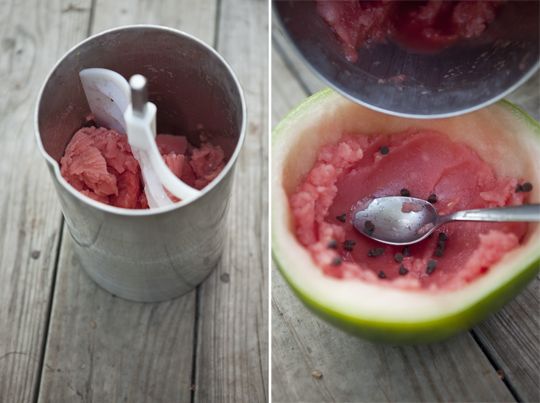 A Watermelon Frosty is just a drink, you say, but not if you re-freeze it—or this Watermelon Lime Sorbet—in the watermelon rind and then slice it up so that it can be eaten just like a regular slice of watermelon. How genius is that? Get the sorbet recipe and how-to for this clever serving trick that will surely make the kids smile at Food For My Family.
If all that peeling, blending, and re-freezing is just way too much for you, go simple with these Watermelon Slice Popsicles at Nutrition Stripped. All you need is the watermelon, a good knife, and old-school, wooden popsicle sticks and, somehow, you end up with something way more exciting than if you served it not frozen.
Related: Amazingly impressive fruit recipes for a party. Move over, cake.
Here's another approach to the watermelon cake idea, which uses whipped cream as icing. Honestly, this seems easier to me, and I love that you can put it out without telling anyone what's inside. Ha! Grab one of our favorite whipped cream recipes and then follow the instructions for how to make a watermelon cake over a Pop Sugar.
I love to enjoy a drink on the patio, but when it's the peak of summer, ice cubes don't stand much of a chance against the heat. So after say, 5 minutes or so, I'm left with a watery, sad version of whatever I was drinking earlier. To help our drinks stay tasty longer, Deborah from Taste and Tell has come up with this genius and utterly simple Watermelon Ice recipe, which makes any drink a little fruitier and prettier too.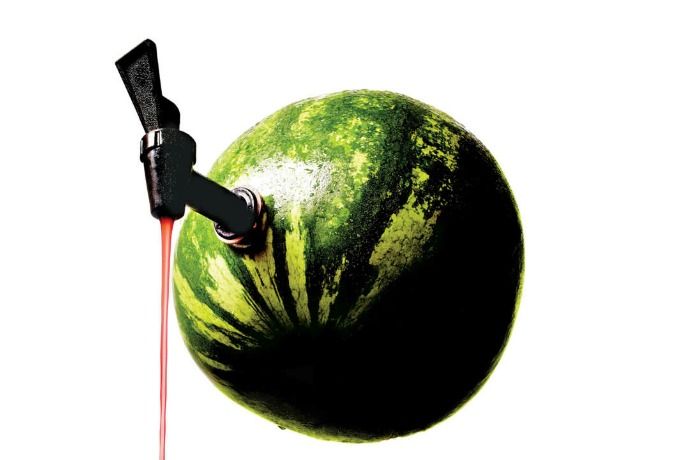 How to make a watermelon keg with a spigot | Grub Street
If you'd like the watermelon to actually be a part of your drink, then this hack for how to turn a watermelon into a keg that we found at Grub Street last year is for you. I mean, do I really have to sell you on this one? I can't imagine anyone not wanting to try this.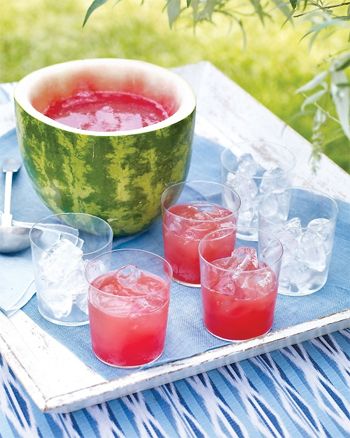 Watermelon Punch Bowl | Martha Stewart
Of course, you can, ahem, take a more civilized approach and skip the keg for this watermelon punch bowl that we found at Martha Stewart a few summers ago instead. Because we know: Sometimes you gotta keep it classy.
Related: Watermelon cocktail and mocktail recipes for more ways to enjoy our favorite summer fruit.
Summer is all about salad, but it's just so hard to serve—and keep appetizing—at a party, especially if you're outdoors. These Watermelon Feta Mint Skewers at Bites of Bri are the answer. An unstoppable combination, these turn what's usually served as a salad into easy, bite sized apps that might even pull the little ones in. Because watermelon on a stick.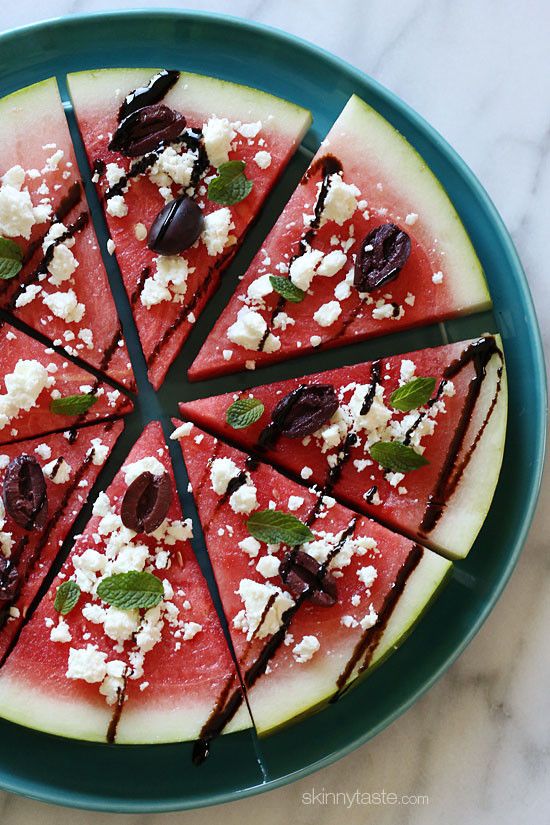 Another creative way to serve salad ingredients with watermelon is to make a watermelon "pizza" like this one at Skinny Taste. Gina piles on feta, black olives, and balsamic vinegar for a savory "pie," but you can easily use this idea to make dessert. Use kiwi slices, berries, and mint as toppings. You can even add some whipped cream to look like cheese!
This may look like a salad, which isn't much of a hack, but I say that this Watermelon Salsa at Gimme Some Oven counts. Because watermelon? In salsa? Yes! This looks truly exceptional, and is so easy to make with only a few additional ingredients that give naturally mild, sweet watermelon a nice kick. Just go easy on the peppers if you're serving to a younger crowd.
If after all these ideas, you're thinking that you just want some fresh, crisp watermelon, there are still hacks for you. This one is crazy involved, but such a fun find if you're having people over (and feel like putting in the time). A former NASA engineer, Mark Rober, came up with this idea for how to skin a watermelon that makes a pretty epic party trick. If nothing else, watch and be amazed.
Related: How to cut a mango perfectly—and to delight your children!—every time.
Slightly less involved, but also kind of fun—and, honestly, practical too—is this easy way to cut a watermelon that we found at Fooduzzi. You can do it in literally one minute and end up with the perfect sized pieces for snacking. Little ones will love this, too, because who knew?!