It's no surprise that we think that the best 4th of July parties are all about the food. Well, and the company too. Fireworks are just a bonus. Let me just say that after a year of isolation and some other really tough stuff, all of us here are more than ready to celebrate freedom of all kinds.
Whether you're a flag-waver or not we think you deserve to treat yourself a little –or a lot! — this July Fourth.
So, in anticipation of warm summer nights and grilling with family and friends, we've gone deep and searched for the most amazing 4th of July treats. I say, start with classic burgers, brats, hot dogs and other easy grilling recipes for the main course, then go festive with the side dishes, desserts and drinks using these red, white and blue recipes. Then, just pop on your favorite modern patriotic tee and make it a holiday weekend to remember.
America is back.
This post contains affiliate links and some purchases may generate a small commission that helps support our own small business at no additional cost to you.
At top:  4th of July Spiked Snow Cones at Grandbaby Cakes
Don't miss our Fourth of July Recipes board on Pinterest for tons more ideas from around the web!
Red, White and Blue 4th of July Recipes: Snack and Sides
For a fresh, healthy and tasty bite between games in the park or splashes in the pool, these Watermelon Feta Mint Skewers at Bites of Bri, from our watermelon hacks post are the perfect party appetizer. Your kids (and you) can just grab and go. Go ahead and order those wooden cocktail skewers now.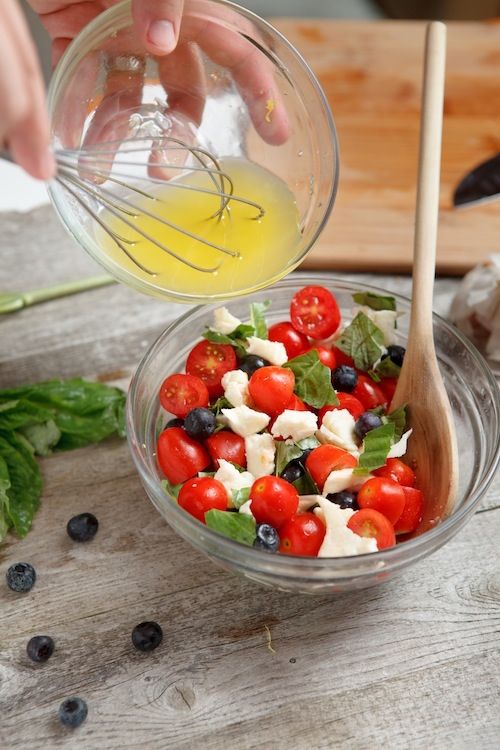 It's a little harder to find red, white and blue 4th of July treats that don't involve watermelon — and believe it or not, not all kids like watermelon. Which is why I love this Red, White and Blueberry salad at Shared Appetite. It's more savory than sweet, which gives a nice balance to your food spread too.
Related: 9 fun, easy, no-bake 4th of July party treats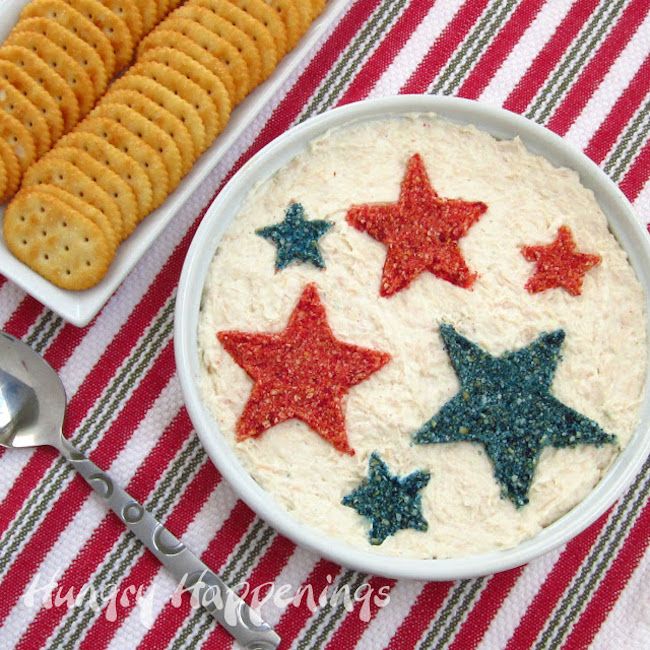 I think that this tip for turning any dip into patriotic dip for the 4th of July at Hungry Happenings is so clever, and our kids would love to help with to execution. Beth also shares her own dip recipe here, but you can use her decorating tips on anything from hummus to French dip.
The sweet dipping sauce and sprinkles on the ends of the Berry Sparklers at Goodie Godmother make these so much more fun and festive than regular fruit on a stick.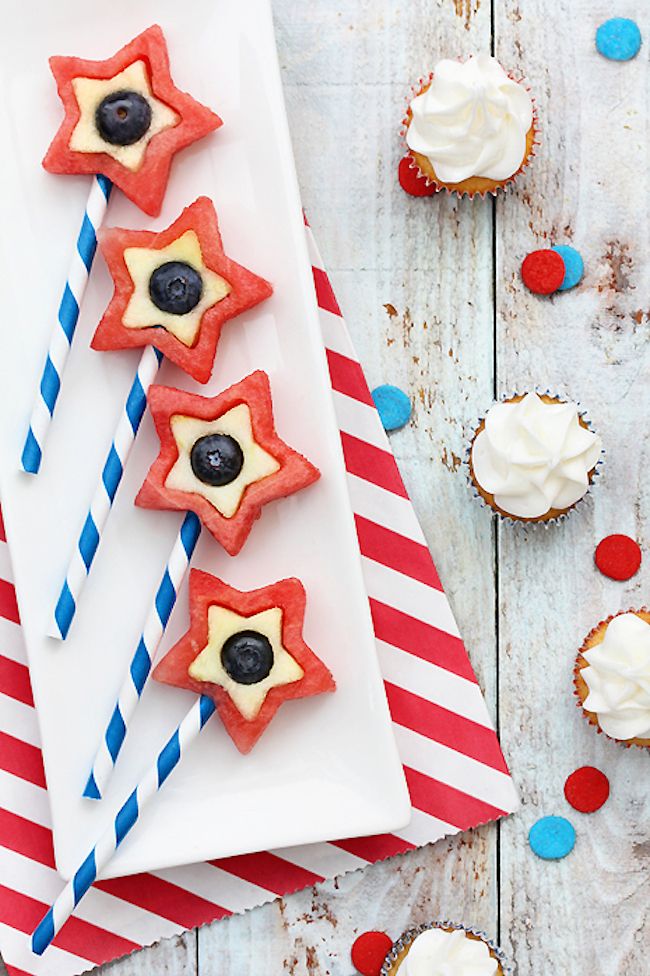 These 4th of July Fruit Pops that we found at Baker's Royale (also included in our post on easy 4th of July recipes) are a little more complicated than just sliding fruit onto a skewer. But! What an impression they make!
You'll need star cookie cutters and those cute paper straws to complete it, but if you're all about the presentation, it's worth the effort.
It just doesn't get easier — or cuter! — than this Watermelon and Blueberry Flag that we found at Lisa Storms. (Long-time Cool Mom Picks readers might recognize it from wayyyyy back in our roundup of July 4th trees kids can make themselves.) I'd serve it by prepping all the fruit and then letting my kids arrange their own flags, kind of like a 4th of July food craft that requires very little parent involvement. You know, so that we can enjoy our grown-up guests too.
These Watermelon Stars that we found at Spearmint Baby are a classic — and a huge hit with our Pinterest followers. Armed with just a star cookie cutter, this one requires minimal effort with big results—that's our kind of party treat!
Can you lay fruit on a tray? Congrats!  You can make this 4th of July Fruit Tray from Mom Advice that is totally in the spirit of the day — simple, relaxed, and all about the USA. (Well, and Germany if you want to get technical about the pretzels, but they're a solid ally so that works.)
That said, I'd probably serve this on a white rectangular serving tray instead of a cookie sheet but hey, whatever works for you.
This beautiful Red, White, and Blueberry Bruschetta recipe at Satsuma Designs is included in our roundup of easy 4th of July fruit dishes, and it's just right as an appetizer for any cookout or outdoor party. You can even get the kids involved, helping you spread and top these sweet bites.
Related: Easy red, white, and blue 4th of July recipes. Like, really easy.
Honestly, I had to include this recipe for Bald Eagle Pears at Parade because they totally crack me up. And they're actually not that hard to make! With a steady hand for dipping and just a couple of add-ons, you can have your own little nest of patriotic bald eagles as the centerpiece for your July 4th table..
Red, White and Blue 4th of July Recipes: Desserts
Marsha bought herself this trifle bowl from Crate & Barrel and swears that she now brings the best-looking dessert to the party, when it's this Red, White and Blue Berry Tiramisu recipe from Suburban Soapbox. You can find it in our roundup of easy last-minute July 4th desserts, and while it's easy,  it's absolutely stunning — .even if you use all ready-made ingredients to complete it.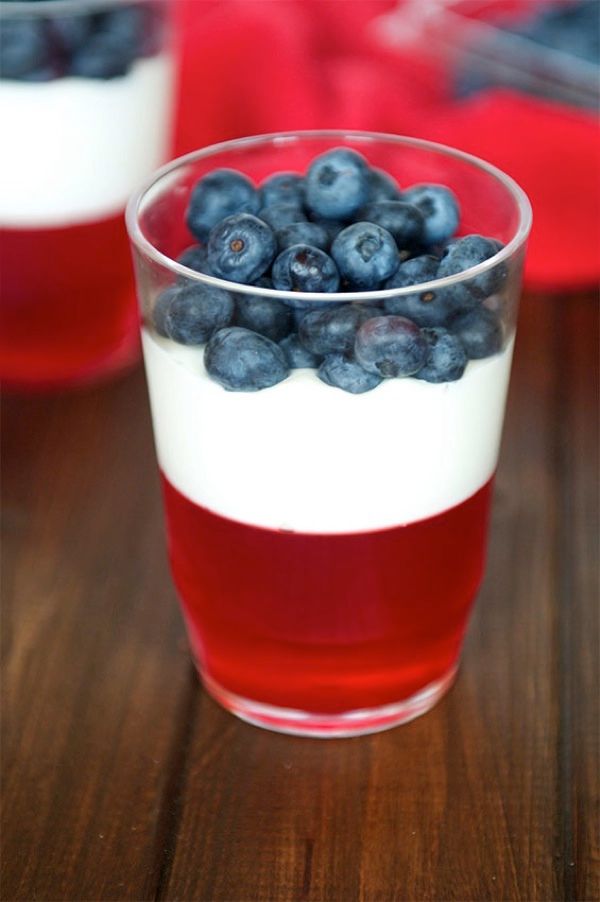 For a no-work shortcut, make these Red, White and Blue Jell-O Cups at The Almond Eater using pre-made Jell-O cups. Then again, I love her creamy, decadent whipped cream layer recipe, so be sure to click through if only for that recipe.
Related: How to make whipped cream—and some not-so-basic, but totally easy upgrades.
Chocolate Bark is such an easy and festive dessert to bring to any party, and this Red, White and Blue Chocolate Bark at Chelsea's Messy Apron is perfect for a 4th of July get-together. Get the kids to help you add the toppings and break it into bite-size pieces — they'll love that.
As long as you've got the M&Ms out, check out this sweet and salty 4th of July Snack Mix at Glorious Treats. It's a great addition to a party buffet because kids can grab them and go play while you're grilling up burgers and corn. Or save these treats for the end of the night to snack on while watching a movie in the backyard or sitting around a campfire enjoying the warm night.
Obviously, these Stars-and-Stripes Macarons at Baking a Moment are for someone who knows what they're doing in the kitchen. Although macarons are easier than you might think, if you've never made them before! If you're a baker who can pull these off, please send us some because they look so delicious.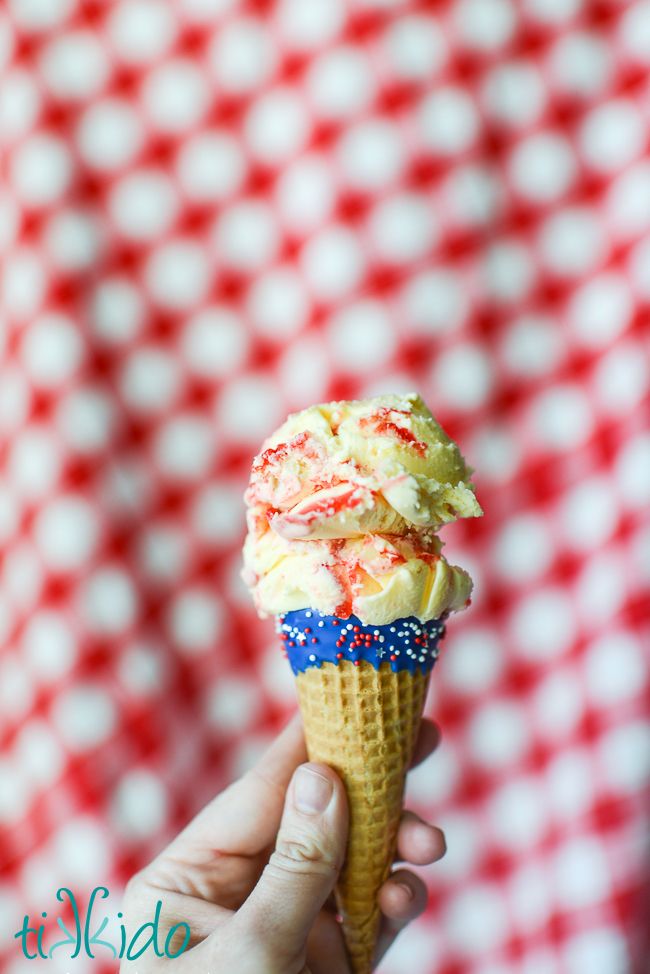 You can make a simple dessert like ice cream appropriately festive just by using little touches like sprinkles or a white-chocolate dipped cone, turned blue. These Dipped Ice Cream Cones at Tikkido are right up our alley when it comes to easy red white and blue treats for 4th of July. So be sure to click through, to see her steps for making these beautiful…and not an absolute mess. (Though they'd probably taste great either way.)
Mmm, do I love a good Blueberry Pie Recipe, and this one that we found at Cosmo Cookie is so festive with its pie-crust stars on top. This is the kind of dessert that gets noticed at the neighborhood block party, for sure.
Psst: we found that red, scalloped pie dish shown here at a great price, too.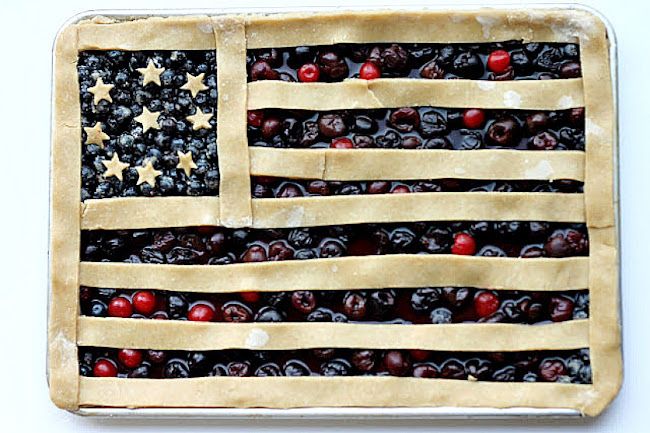 I love a good slab pie because they're so easy to make and they serve so many people. This smart American Flag Slab Pie at Treasure in an Earthen Vessel is perfect for the 4th of July—especially with a combo of blueberry and cherry fillings. Yum. Bake these in a jelly roll pan for the easiest way to go.
Related: 8 red, white, and blue 4th of July dessert recipes perfect for a crowd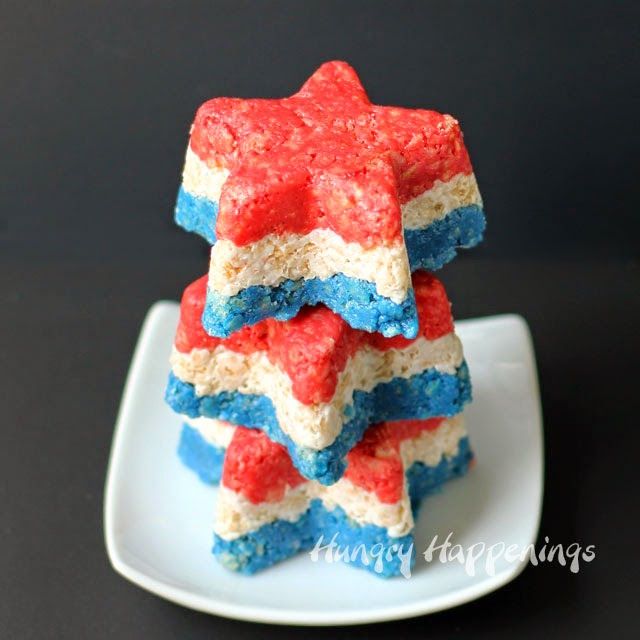 A Rice Krispies Treat is the perfect hand-held dessert for any party where kids will be chowing down, and these Red, White and Blue Rice Krispies Treat Stars at Hungry Happenings are so festive for the 4th. Mix up the colors ahead of time and let the kids shape them into stars on their own as a party activity to keep them busy before fireworks start.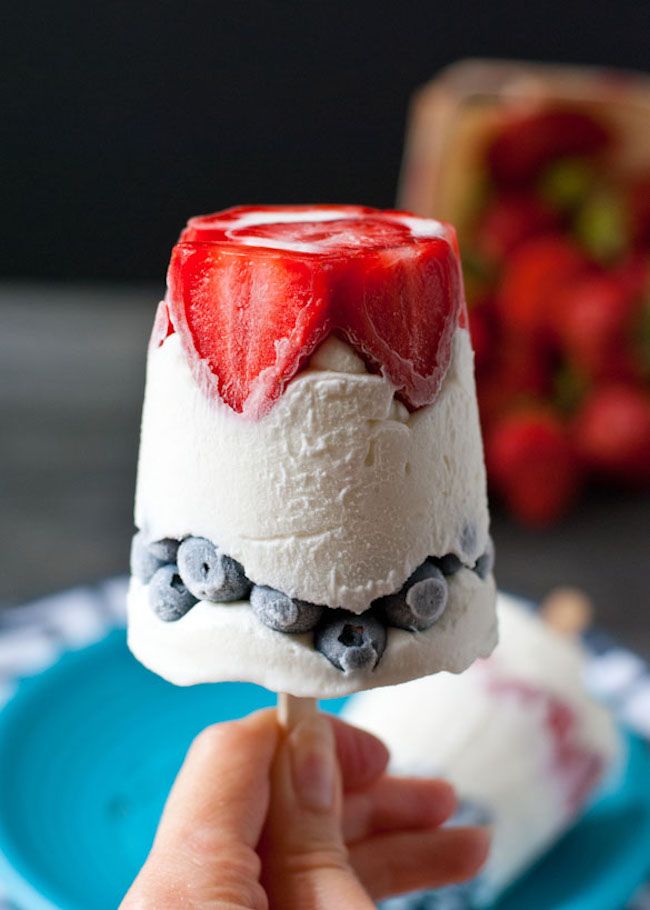 It's hard to resist a pudding pop when it's hot out, and these Red, White and Blue Pudding Pops at Neighbor Food look so delish. Just be prepared with lots of wipes and paper towels nearby, because they look like they'll drip big time. Or, snag some popsicle drip catchers before your party. They're a lifesaver for parents!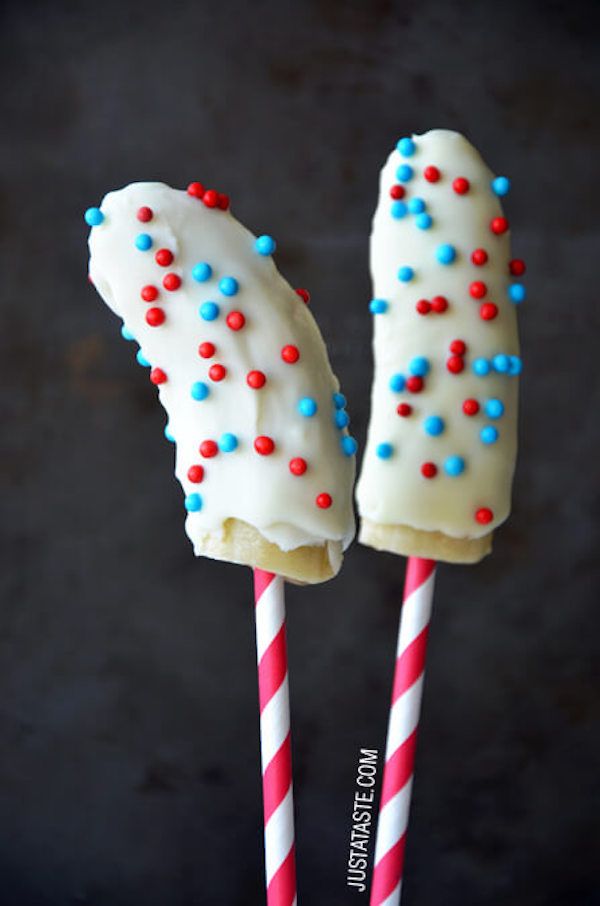 For a Popsicle with a little more nutritional value and tons of flavor, make these Dipped Bananas at Just a Taste. We like her tips for getting the chocolate coating silky smooth, which isn't always easy. And if you can't find these sprinkles at your grocery store, you might like these red, white, and blue sprinkles that make will make these perfect for 4th of July.
Another easy way to serve July 4th-ready ice cream: The Patriotic Cones from The Pretty Bee. I think that making them can be a really fun activity at your cookout — just set up a station for so kids (and adults too, we don't judge) can dip their own cones and add their favorite fruit toppings, like blueberries, cherries or strawberries.
If you want to spend your time hanging out with friends rather than serving up intricate desserts, these Red, White and Blueberry Yogurt Popsicles that we found at The View from Great Island are the perfect 4th of July party dessert. You'll need a basic silicone popsicle mold like this one to complete it, and be sure you allow time for those different layers to freeze before moving onto the next.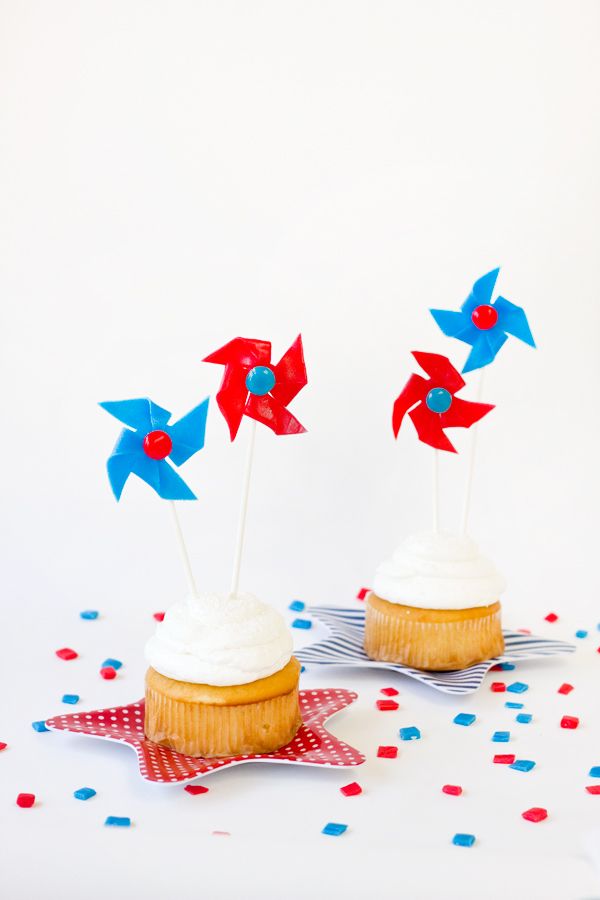 Leave it to Kelly at Studio DIY to figure out that you can turn Airhead candie into Edible Pinwheels. How clever is that? These make super fun cupcake toppers or just hand them out to all the kids for dessert while you watch the fireworks.
Related: The ultimate 4th of July recipe guide: Cookout eats, drinks, party treats, and more.
Red, White and Blue 4th of July Recipes: Drinks
Twizzlers as straws? Why didn't we think of this! This kid-friendly patriotic punch at Mom Endeavors is such a fun treat for the kids, and we're pretty sure they'll run or swim or play off all that sugar before the night ends.
Cut down on your sugar intake (and stay hydrated!) by serving water to your guests,  but make it festive with these Red, White and Blue Ice Cubes at Bellyfull, made in a silicone ice cube mold. Of course, the ice cubes also jazz up any clear soda, lemonade, or even a vodka cocktail. Just saying.
These  Sun Tea and Fruit Jars at Thirsty for Tea have so much more personality than a cooler full of soda cans, and the strawberry and blueberry water jars have that red, white and blue that make the party a little more festive. And don't worry: Mason jars are sturdy enough to serve outside with minimal risk of glass breaking. Plus they're not as hard to find as they were last summer during the Great Pandemic Canning Frenzy of 2020!
We love a great margarita on a hot summer night and these Red, White and Blue(berry) Margaritas courtesy of Gimme Some Oven look so tasty for a party. You might want to practice layering the flavors ahead of time. (We know, the sacrifice!)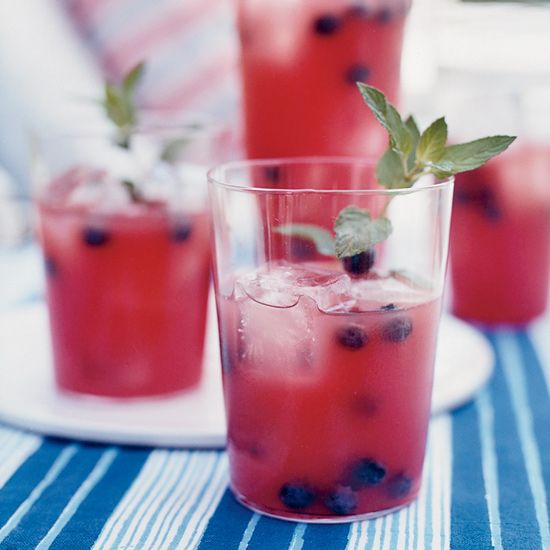 Watermelons are so easy to juice, so we were excited to find these Watermelon-Tequila Cocktails at Food and Wine, which we included in our roundup of Red, White, and Blue cocktail & mocktail recipes a few years back. The result is fresh, crisp, bright and colorful—the perfect drink to sip when it's hot outside.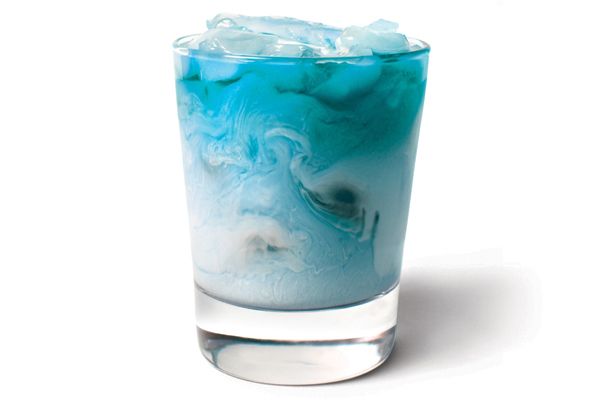 Isn't this Life and Liberty Cocktail from Cosmopolitan so pretty? Made with sorbet and soda, it has a nice tang to it too. And you can easily leave the alcohol out of this one for kids and other non-drinking guests.  It might take a deft hand to get that swirl looking just right, but give it a shot!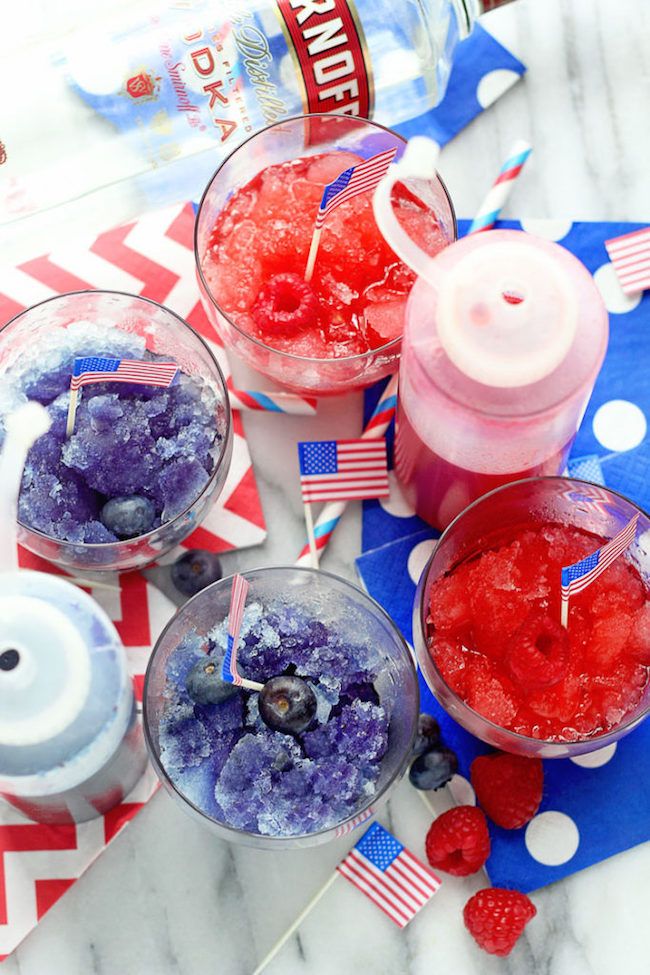 Slushies are always a hit with our kids and these colorful 4th of July Spiked Snow Cones at Grandbaby Cakes are ridiculously fun. Of course, you can leave out the booze or substitute a lemon-lime soda for those who want a non-alcoholic version. Either way, we think these will be a favorite.
Related: 7 New Year's Eve mocktails for kids. So fun and colorful, you'll want a sip too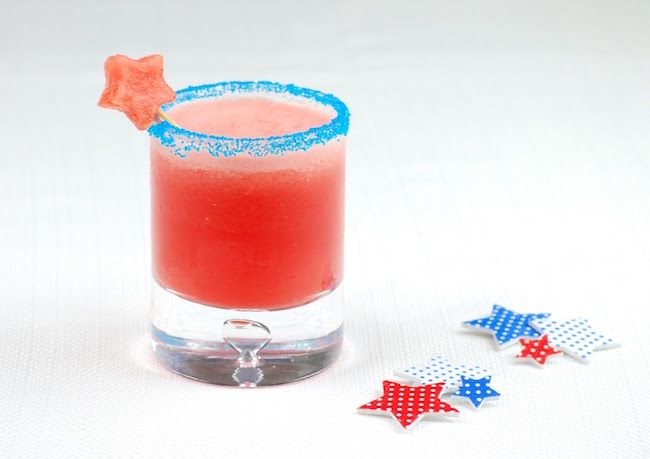 The blue sugar rim of this watermelon-and-blueberry 4th of July Cocktail Recipe at Tasty Trials makes it an elegant signature cocktail for your celebration. To make it non-alcoholic, just switch out the blueberry vodka for a lemon-lime soda or Maine Root blueberry soda, and you're all set. Cheers, America!