Fret not, procrastinators. There is still time to score a super cool gift, because nobody will argue with getting something totally delicious delivered to their door every month. Whether your giftee is an inveterate snacker, a hiker looking for tasty new functional foods, a chocoholic, a proud caffeine junkie or someone who just loves discovering delicious new flavors, we've got something for them.
And the best part? All you have to do is click, purchase, and write a sweet note explaining that goodies are on the way. Phew.
This post has been updated for 2022
Before we get to this year's picks, a quick reminder that, over the years, we've featured many other fantastic food subscription services that are still up, running, and widely considered top-notch choices. Be sure to check them out too.
Now onto the subscription food gifts! – Stacie + Liz
This post contains affiliate links, which means we may receive a small commission from certain purchases to help support the work we do at no additional cost to you.
Mouth Foods Subscription Boxes
Our friends at Mouth.com remain an outstanding must-check site for us for food subscription gifts, since they have so many options and they're always updating them. There's the Best of Mouth monthly club for your favorite foodie; the Indie States of America subscription gift is a culinary tour around the USA; the Snack of the Month Club is a major step up from those Ruffles and onion dip; and there's even a Pickle of the Month Club. Also be sure to check out all of their clever, curated foodie gift boxes for single gifts, or curate your very own — the Holiday Sweet and Savory Gift Box is shown above.  (Starts at $60/month for one month, with 3- 6- and 12-month subscriptions offering discounts, Mouth)
Shaker & Spoon Cocktail Club subscription gift box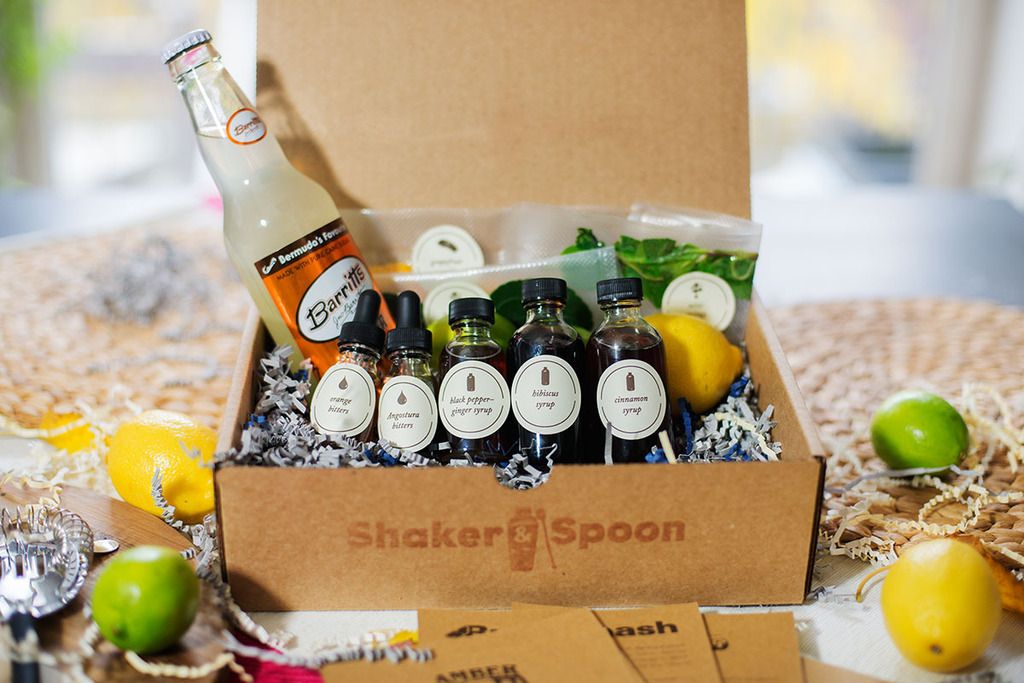 This subscription gift box from Shaker & Spoon is perfect for anyone who wishes that they could be a high-end mixologist (or maybe still dreams of being Tom Cruise in Cocktail—you know who they are). They send everything you need, from syrups to garnishes, to shake and stir 12 cocktails every month from included recipes. Each recipe is built around the same base liquor, which is the only thing not included in the box. That may sound inconvenient, but it actually makes this service more practical and affordable than many of the other mixology subscription services. Plus, the drinks are just plain tasty since these guys are all about offering up new flavor sensations and empowering members to start devising their own tasty combinations. ($40-50/month with discounts for longer terms,Shaker & Spoon)
Snakku
Snakku's gift box (also at top) delivers a collection of hand-picked snacks that you can only find in Japan, along with a selection of familiar Japanese snacks delivered every month. They are dedicated to supporting local Japanese businesses and showcasing the authentic seasons and regions of Japan through their choices. Each box is beautifully wrapped in a traditional, washi-paper furoshiki too! (From $38.95 and up, Snakku)
Raw Spice Bar Spice of the Month Club
If your foodie likes to cook as much as they like to eat, the Spice of the Month Club from Raw Spice Bar is one of our favorites. Best of all, they've updated it for 2018, now offering customized spice subscriptions to help amp up your own style of cooking and diet, including paleo, salt-free, vegan and gluten-free. They also offer terrific spice gift sets filled with cute, convenient little tins or go bigger with a spice subscription gift card for quarterly deliveries of 6 spices for 6 or 12 months. They even come with recipes and ideas for how to use the blends, which is kind of like giving a mini-meal plan, too. ($42 and up for a gift box; subscriptions starting at $72 for six months)
Mistobox
A Mistobox gift subscription is everything a coffee lover could want — besides their own personal barista. They send coffee customized to your own taste (your giftee fills out a flavor profile quiz first), each one hand-roasted to order from a selection of 50 artisanal coffee purveyors. We've ordered for lots of people in our lives, and it's always a big hit. (Starting at $20 for 1 month to $240 for a year, Mistobox)
Try the World

Try the World sends a curated selection of gourmet foods from a new country every month. While some of the foods included every month may not be as kid-friendly as others, we love this food subscription box for families because each box also comes with a Culture Guide to help you recreate an authentic experience at home. So fun! (Starting at $19/month, Try the World)
Related: More of best food subscription boxes to suit anyone on your list 
Red Velvet Dessert Kits
Every month, Red Velvet will send you or someone you love two recipes and all of the pre-measured ingredients you need to make two gourmet, seasonal desserts like a pro. Each recipe is easy enough for any home cook to execute, but also comes with a tip or trick to help even beginner bakers master simple, but professional techniques that will make their creations stand-out. This is perfect for the avid home cook — or maybe the home cook who is raising a little one who's recently fallen in love with The Great British Baking Show ($49 for 2 baking kits/month, Red Velvet)
Mantry Subscription Food Box
We discovered Mantry back in 2014 and loved them so much, some of our own dads got subscriptions for Christmas!  Their 1-, 3-, and 6-month subscription food boxes are an extraordinary gift idea for any guy who's down with the likes of 6 full-sized goodies including gourmet salsa, small-batch Alabama BBQ sauce, seriously good bacon, or single bean origin coffee that makes you want to toss the K-cups if you haven't already. The first box even comes in their signature reusable wooden crate. (Starts at $59/1 box)
Bar and Cocoa Club
Formerly known as Choco-rush, the now more more fancy sounding Bar & Cocoa Club sends subscribers a box each month containing four glorious dark chocolate bars of different cacao origins, each produced in small batches using whole cocoa beans that they get direct from a single origin farm. Most of the bars are made with nothing more than cocoa, cacao butter, and sugar, which makes all of them gluten-free and most of them vegan. Plus the chocolate contains 60-80% cacao which actually is way more healthier than the cheap stuff, with legit health benefits. Perfect excuse to get one for yourself, too? Also check out their individually curated chocolate gift boxes. (From $45 for one month, $129 for 3 months and up, for but be sure to provide your email for $5 off your first subscription. NOTE: Ages ago they provided us with code COOLMOM for 10% off your first box; check and see if it still works.)
Related: 4 of the best subscription cooking kits for kids that make awesome gifts for little chefs.
Carnivore Club food subscription gift box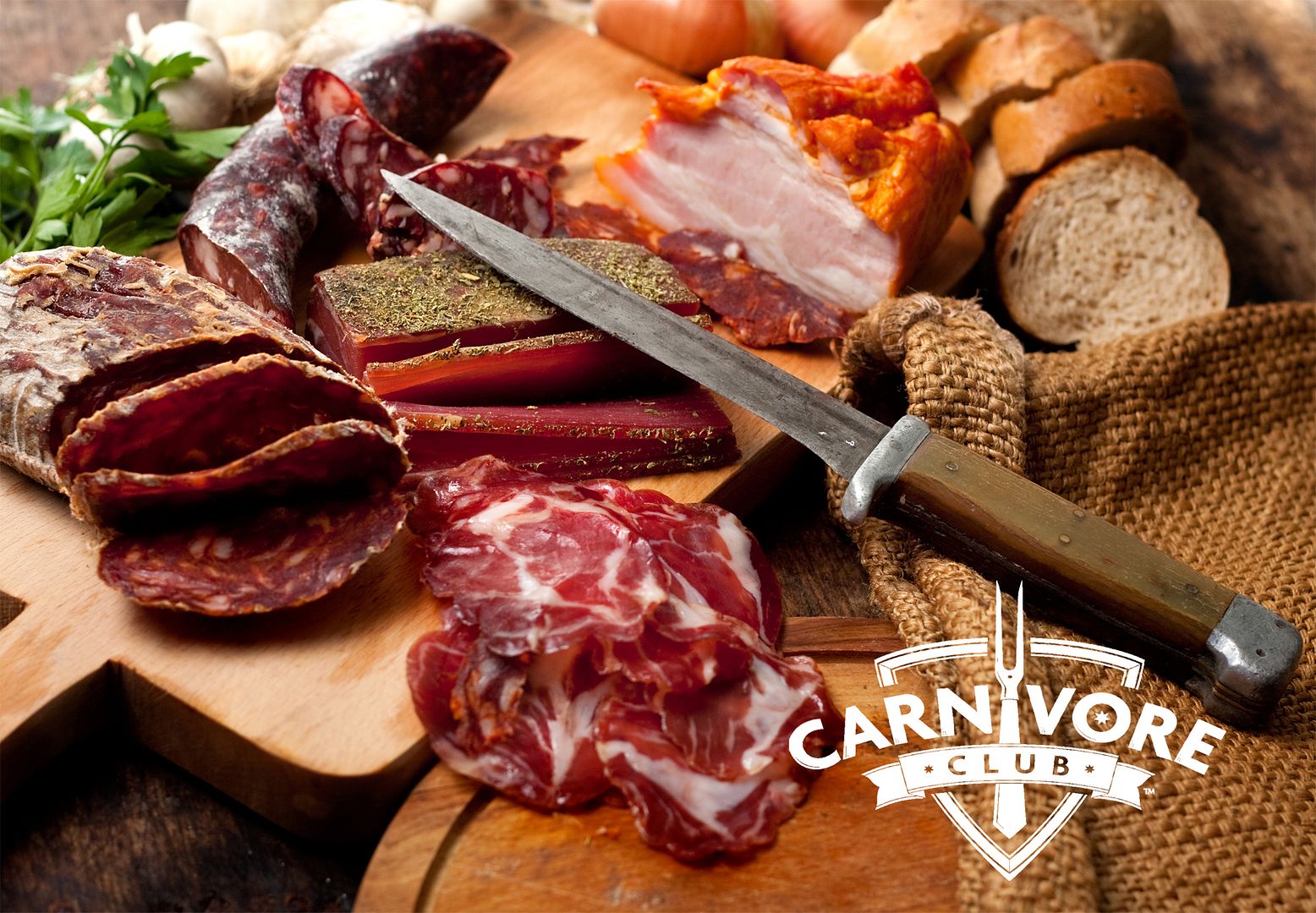 Carnivore Club was featured in a past guide to some favorite gourmet gifts for Father's Day, but we're bringing it back for the holidays, because dads are not the only ones who should have all the cured-meat fun. Each month, they ship out 4-6 artisanal products from top-notch producers around the world who commit to humane practices, locally sourced ingredients and other good stuff. Great gift for any meat-eating foodie. (From $29.99 for a one-time snack box, with subscriptions starting at $49.99, Carnivore Club)
Batch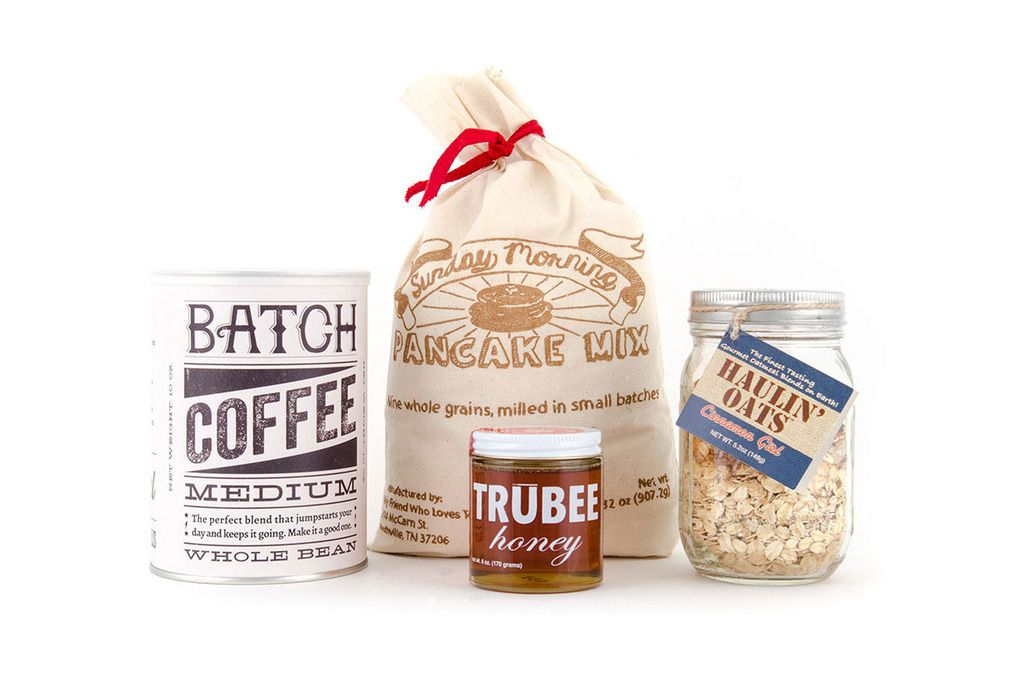 You don't have to be from the South to love Southern goods — especially foods. At least that's what we believe, which is why we think that the quarterly Batch subscription would make a great gift for anyone. Each box is packed with local, handmade treats from Nashville, Memphis, Austin, and Charleston. There are three box options you can choose from — men's, women's, and family — and not all of them are all filled entirely with food, though most have at least some edible treat included. (Starting at $49/month, Batch)
Farm to People Farm Boxes
Farm To People is an online specialty market dedicated to making great food conveniently available to everyone in NYC (and beyond). Their Cook's Box is a perfect way to help a food-obsessed friend or family member discover new and obscure products, delivering seasonal produce and artisanal proteins, dairy, and grocery items. Just double check the delivery address, they aren't everywhere just yet.  (Starts at $50, Farm To People)
Cravory Cookies
What could be better than having cookies delivered to your door? No prepping. No measuring. No baking. Just eating. Every month, The Cravory sends six new seasonal flavors to its subscribers by the half-dozen, dozen, or two-dozen. And, oh, the flavors. Think Bourbon Pecan, Coffee Cake, Pumpkin S'mores, Salted Caramel Cream, and Poppin Eggnog. Need we go on? (From $9.95/month and up, The Cravory)
Moustache Coffee Club
Moustache Coffee Club is perfect for the hardcore coffee lovers in your life. Like, the ones casually say things like single-origin and cortado. The club delivers carefully selected, single-origin coffees (ahem) that are delivered to your doorstep three days from being roasted. (Just three!) Their goal: To bring a world-class, craft coffee experience into people's home in a way that no other roaster or coffee shop can do. And people are buzzing about them — not just because of the caffeine. (From $38.00 and up, Moustache Coffee Club)
Universal Yums
Universal Yums takes recipients on a journey to a new country every month with a box of snacks and candies from that country, plus an educational booklet with info, trivia, and games that we think makes this especially fun for kids and families. You can choose between 6 or 12 snacks every month, and all boxes come with free shipping in the United States. Check out their past boxes from places including Turkey, Pakistan, and Columbia to get a sense of the kinds of fun treats that come in each box. ($14 per box and up with one, three and six month options, Universal Yums)
Hiker Crate
Being called a foodie used to mean that you were all about indulgent foods and fancy ingredients, but these days, with a growing interest in health and wellness, many foodies are also super healthy, or at least follow very specific functional diets. If there's a super healthy food lover on your list who's also an athlete — a hiker in particular — Hiker Crate is a perfect gift. We know that it's super specific, but it's just so cool! Every month, your favorite hiker will get five to eight items to elevate their hiking game, including gear and lots of high-performance trail snacks and healthy camping meals. So fun! (From $32.33 and up, Hiker Crate)
Related: 9 gifts for food lovers that do good in the world
Japan Crate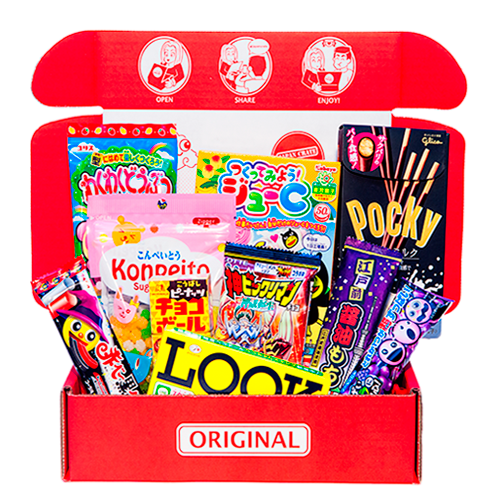 Oh how we love this! Every month, Japan Crate sends a box of exclusive Japanese candies, sweets, and surprises (think a manga-zine with translation) that are sure to delight anyone who wishes they lived in Tokyo, because that's where all the cool kids are. If your gift recipient is more into savory than sweet, check out their Umai Crate, which sends seven-eight premium quality noodles instead of sweets every month. (Starting at $12/month, Japan Crate)
Takeout Kit
Unlike the other subscription boxes here, Takeout Kit is more like a meal kit delivery service, but more fun. Instead of giving a practical dinner solution (which is a great gift, by the way, if that's what you think your recipient will love), this is more about giving a fun dining adventure one to four times a month. This is perfect for an adventurous home cook who loves experimenting with cuisine and flavor, but doesn't have the time to find off-the-beaten path recipes or harder-to-find ingredients. From Burmese curry noodles to Sichuan Mapo Tofu and Ethiopian spiced lentils, these meal kits come with all the ingredients you need to make dinner — though note that the dinners cook in 30-60 minutes, so this is definitely for someone interested in spending some time in the kitchen. (From $32/meal/month and up, Takeout Kit)