Hey there, busy parents who haven't finalized your Thanksgiving meal plans yet! We've got you. Because we're last-minute planning too, we've rounded up every one of our Thanksgiving recipe posts here, in one place. So here it is: our Ultimate Thanksgiving recipe guide.
– Updated for 2023-
First, let's start off with our time-saving Thanksgiving cooking schedule, even or those of you on a shortened timeline. It serves as a handy checklist for things you may forget — clean linens? Enough chairs? Vegetarians and vegans accounted for? — and will help you ensure that your dishes finish at the same time. So you're not having roasted Brussels sprouts for dessert. (Some of us have been there.
Then, from the turkey to the pumpkin pie (or uh, the arguments about which pie is best) and everything in between, we've got you covered with tried-and-true recipes, cooking tips, and help for lsat-minute potluck dish ideas. You can even find our own team's very favorite Thanksgiving recipes, that we'll be serving this week at our own tables.
Dig in and enjoy your holiday, and know that we're so thankful for all of you!
General Thanksgiving tips, tricks and dinner-saving advice
The Thanksgiving cooking hotlines that can save every aspect of your meal, any time, day or night.
8 genius prep-ahead tips for Thanksgiving Day.
10 last-minute Thanksgiving cooking hacks you'll be glad you know.
9 time-saving kitchen cheats to make cooking for the holidays easier
Eco-friendly table ideas including place settings and serving ware.
The best Thanksgiving cooking helplines to save your turkey (or other cooking mishaps) on Thanksgiving Day
Helpful resources for cooking a fool-proof Thanksgiving dinner
The best Thanksgiving turkey recipes & tips

How to cook a turkey: the Cool Mom Eats fool-proof guide.
How to cook your first Thanksgiving turkey: the step-by-step, no-panic tutorial
Understanding all the turkey labeling so you know what you're eating
5 easy Thanksgiving turkey recipes for a mouthwatering bird.
The 5 most-common Thanksgiving turkey problems, and how to fix them all.
How to cook a Thanksgiving turkey in just under an hour. For real.
Plus . . .
How to make the perfect turkey gravy
3 simple solutions to fix lumpy, thin, or thick gravy.
All about that stuffing
8 of the best-ever stuffing (or, is it dressing?) recipes
7 simple but still impressive Thanksgiving stuffing recipes
A sheet-pan stuffing recipe with sausage and spinach. To die for.
5 top bloggers share their favorite stuffing recipes.
The best traditional southern oyster pie recipe (or oyster stuffing or oyster dressing).
The best Thanksgiving side dish and vegetable recipes
Shaved Brussels Sprout Salad via  The Endless Meal: One of our favorites to recommend for Thanksgiving!
8 amazing last-minute side dish recipes that don't feel last-minute at all.
l7 more easy last-minute Thanksgiving side dish recipes. (Can never have too many.)
11 make-ahead side dish recipes so you can focus on the turkey (or, you know, family)
6 delicious make-ahead side dish recipes
Apple-Squash Gratin via Jane Sweeney for Cool Mom Eats
Crowd-pleasing Thanksgiving vegetable recipes we adore
9 side dishes for vegetarians and vegans that even carnivores will love.
8 seriously amazing mashed potato recipes
9 mashed potato alternatives for your Thanksgiving table. (No offense, mashed potatoes.)
How to make mashed potatoes in the microwave or make mashed potatoes in a slow cooker to speed things up.
The easy apple-squash gratin we love for Thanksgiving sides, mains, and even Friendsgiving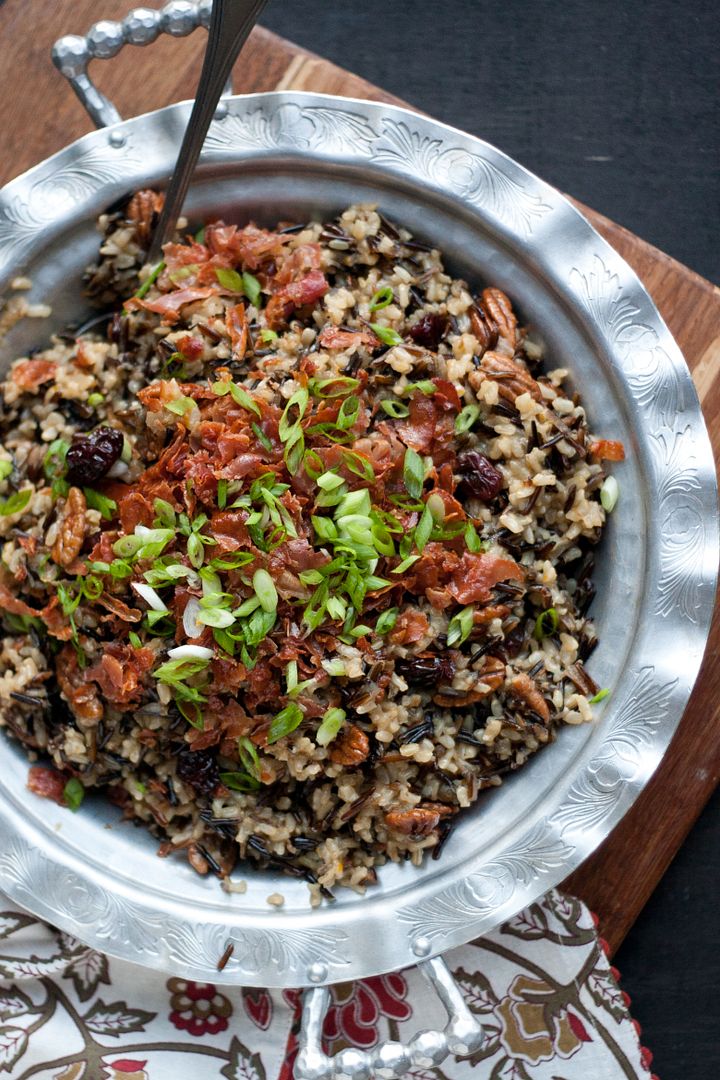 Gluten-Free Wild Rice Stuffing Recipe from Natalie at The Pioneer Woman
15 gluten-free appetizers, sides, and desserts for your Thanksgiving feast
Colorful fall salads to brighten your Thanksgiving table.
7 Instant Pot side dish recipes that will save you space in your oven.
How to take simple roasted veggies from good to holiday-worthy.
7 cranberry sauce recipes for every taste and 5 more easy cranberry sauce recipes that break the mold
6 easy-to-transport Thanksgiving potluck recipes
How to make Hasselback potatoes in 5 easy steps
The best Thanksgiving dessert recipes…and drinks, too!
Chocolate Bourbon Pecan Pie at Well Seasoned Studio
9 irresistible twists on traditional pumpkin pie recipes.
5 non-pumpkin pie recipes for Thanksgiving, should you have fans of other options at your table.
7 easy Thanksgiving deserts for kids who won't eat pumpkin pie
5 classic Thanksgiving pie recipes, with 5 twists on the classics
A Merry Berry Thanksgiving cocktail recipe
The best recipes for Thanksgiving leftovers
Turkey, Brie and Cranberry Paninis at Just a Little Bit of Bacon
28 delicious Thanksgiving leftover ideas — all the ideas from our leftover posts, now all in one place.
A meal plan to get you through the week including  25+ leftover ideas.