Need some help with last-minute Valentine's recipes? Good ones? We hear you!  Whether you're planning a deliciously sweet Valentine's Day breakfast, packing heart-shaped lunchbox treats, baking (or avoiding baking) for the classroom, whipping up semi-homemade Valentine's treats for a bake sale or party, or having a romantic Valentine's dinner at home, we've got you covered, big time.
We've put together all our favorite easy, last-minute Valentine's recipes that we've been sharing on Cool Mom Picks and Cool Mom Eats in one place. This way, you can scan them quickly to save more time for, well, whatever else you have planned for Valentine's Day, (Whomp whomp)
 Plus you'll find some terrific DIY tricks here that turn store-bought treats into something special for the big day. Because, hey, we're all about easy on Valentine's Day.
And that's not a double entendre.
Okay, it is.
Top photo:  X & O Brownies by Camille Styles, featured in our post on 5 ways to turn brownies into Valentine's Day brownies
 Related: Lots of ideas for last-minute Valentine's Day gifts that don't require $$$ shipping
Last-Minute Valentine's Recipes for Snacks and Treats, Savory and Sweet
Whether you're thinking cookies, candy, brownies, or even savory treats to cut back on sugar, these last-minute Valentine's recipes and ideas are a snap. And psst…plenty of semi-homemade ideas here that are as fun and impressive as homemade from scratch.
Drizzled icing sugar cookies tutorial © Chelsea Cavanaugh for Martha Stewart
5 kid-friendly, easy ideas for decorating heart-shaped cookies
7 deliciously healthy Valentine's Day treats made with fruit
9 extremely cool Valentine's cookie ideas for teens, no cutesie stuff
8 delicious last- minute Valentine's treats you can eat all year
DIY conversation heart cookies with a printable box for gifting
 Edible Cupid's Arrows | Fork and Beans
3 shortcuts to no-fuss but totally delicious Valentine's treats for classroom parties
7 chocolate-dipped fruit ideas that go beyond strawberries
7 sweet, non-candy Valentine's Day treat ideas
A recipe for heart-shaped white peppermint bark
6 easy homemade Valentine's Day treats for kids (with allergy-friendly ideas, too)
Valentine's Day Tic-Tac-Toe Conversation Heart Treat | Sippy Cup Mom
12 fun and super easy Valentine's Day treats for the classroom
5 super cute, easy edible Valentine's Day projects for kids
7 DIY Valentine's Day candy recipes that you can make with kids.
8 easy homemade Valentine's Day food gifts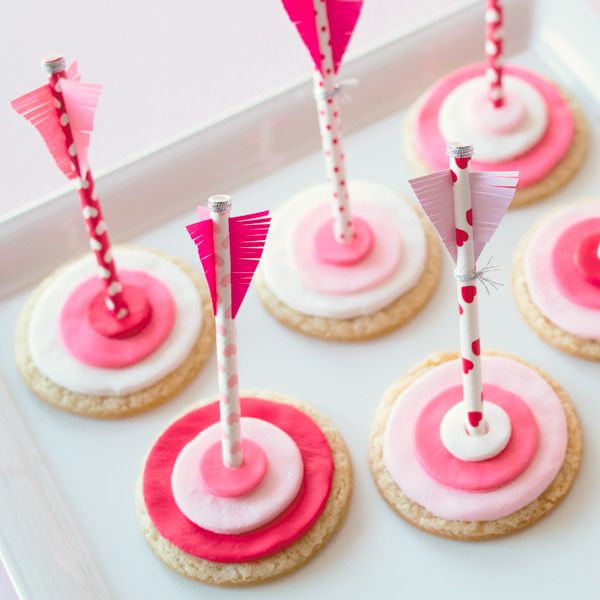 Cupid's Arrow Sugar Cookies | Hallmark
9 amazing Valentine's cookie recipes that make us go…wow.
7 DIY Valentine's Day candy recipes that you can make with the kids
Semi-Homemade Mint Oreo Heart Treats kids can make themselves
8 ridiculously easy, last-minute Valentine's Day treats — because procrastinators need love, too
7 indulgent, easy homemade chocolate treats for your little Valentines
Last-Minute Valentine's Recipes for Meal Ideas
Dinner
Having a Valentine's night at home? Either by choice or necessity, we've got ideas whether it's a family affair, or an after-the-kids-are-in-bed kind of a thang. Rowr.
 Heart-Shaped Thyme and Ricotta Ravioli recipe | Pina Bresciani
6 romantic recipes for a sexy Valentine's night dinner at home
How to adapt 3 Valentine's dinner ideas from kid-friendly to adult-friendly
How to make Valentine's night in a sexy, at-home date night: 14 fun ideas
The one and only trick for making perfect restaurant-style steak at home
5 of the best steak recipes to make dinner sizzle
5 yummy 30-minute marinades for meat, fish, even veggies
Lunch
So many great last-minute Valentine's recipes that make perfect lunch ideas for home or to pack in a lunch box, And hey, they make greata dinner ideas for the kids, too.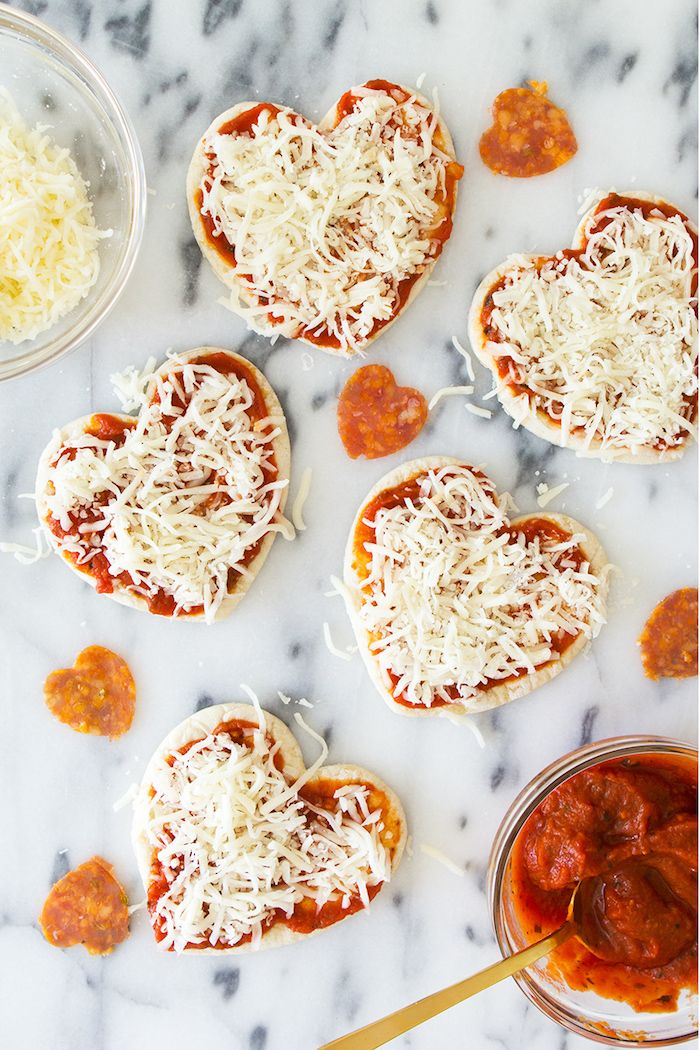 Heart-Shaped Pizzas | Sarah Hearts
Heart-shaped pizzas: an easy tutorial
6 ideas for a really fun Valentine's Day lunch with the kids
6 Valentine's Day lunchbox ideas made with extra love
8 easy last-minute Valentine's Day lunch box treats
Breakfast
Starting Valentine's Day morning with something a little more special? We're here for that!

Pink ombre pancakes | This Mama Loves
How to make all-natural pink pancakes for Valentine's morning
5 delicious recipes for Valentine's Day pancakes
6 simple and sweet Valentine's Day breakfast recipes
8 decadent Nutella breakfast recipes for any indulgent morning
Last-Minute Valentine's Recipes for Desserts (Beyond Mere Snacks)
If you're not sugared-out by the end of the day, these outrageous last-minute Valentine's recipes give you plenty of ideas all made — and devoured — with love. They're not all pink, either!
Easy 3-Ingredient Nutella Heart Tarts for Valentine's Day by Stacie Billis
5 ways to turn a pan of brownies into an easy Valentine's Day dessert
5 must-tree clean chocolate dessert ideas for Valentine's dessert with less guilt
3 last-minute Valentine's Day sweets made with one Valentine's Day cookie cutter
5 easy red velvet desserts for a red hot Valentine's Day
How to make desserts with 3 different all-natural pink frostings
How to make a pretty heart-shaped strawberry rose
Last-Minute Valentine's Recipes for Cocktails and Drinks
Want to step it up from a bottle of wine? Cheers, friends! You dessert it.
Nutella Martini | Averie Cooks

6 crazy delicious Nutella drink recipes
6 festive pink cocktails and mocktails to serve on Valentine's Day.
A French 75 cocktail and mocktail recipe
5 three-ingredient cocktail recipes that will make you feel like a master mixologist
9 creative Sangria recipes, yum
6 delicious champagne cocktails: bring on the bubbly!
5 beer cocktail recipes, because man cannot live on wine alone