Need some help with last-minute Valentine's treat ideas? Good ones? No need to explain to us. Whether you've got Valentine's classroom treat duty, you're looking for a thoughtful after-school snack or want to surprise the kids with heart-shaped bit of edible love in a lunchbox on the 14th, surely you'll find something you're looking for on this list.
Up for something totally homemade? Got you. Semi-homemade more your style? We've got you too. Just scan this list of our favorite posts for Valentine's treats and get cooking. Or dipping. Or cutting stuff into heart shapes.
Hey, we're all about easy on Valentine's Day.
And that's not a double entendre.
Okay, it is.
 Related: Lots of ideas for last-minute Valentine's Day gifts that don't require $$$ shipping
Last-Minute Valentine's Treats and Snacks:
Cookies, Candy and Brownies
Whether you're thinking cookies, candy, brownies, or even savory treats to cut back on sugar, these last-minute Valentine's treats and ideas for festive goodies are a snap. And psst…plenty of semi-homemade ideas here that are as fun and impressive as the ones homemade from scratch.
 X & O Brownies by Camille Styles
5 ways to turn a pan of brownies into an easy Valentine's Day dessert
5 kid-friendly, easy ideas for decorating heart-shaped cookies
7 DIY Valentine's Day candy recipes that you can make with the kids.
9 amazing Valentine's cookie recipes that are all about hearts
9 extremely cool Valentine's cookie ideas for teens, no cutesie stuff
How to make heart-shaped white peppermint bark
How to make DIY conversation heart cookies (plus a printable box for gifting)
3 ways to make natural pink frosting for all your Valentine's desserts
Valentine's Day Tic-Tac-Toe Conversation Heart Treat from  Sippy Cup Mom
12 fun ideas for easy Valentine's Day treats for the classroom
5 sweet Valentine's Day treats the kids can help make 
7 DIY Valentine's Day candy recipes that you can make with the kids
Semi-Homemade Mint Oreo Heart Treats kids can make themselves
A recipe for pink hot chocolate…mmmm
Valentine Chocolate Spoons from Audrey 74
8 ridiculously easy, last-minute Valentine's Day treats — because procrastinators need love, too
Easy 3-Ingredient Nutella Heart Tarts for Valentine's Day
7 simple homemade Valentine's treats that are all about the chocolate
8 more truly easy, last- minute Valentine's treats we love
3 shortcuts for making classroom Valentine's treats when you have no time
5 easy red velvet desserts: It's not just about cupcakes!
6 more homemade Valentine's Day treats for kids (even kids with allergies) that are easy as it gets.
Last-Minute Valentine's Treats and Snacks:
Easy on the Sugar

Valentine's Snack Board from Foxes Love Lemons
40 foods you can make more festive with just a heart-shaped cookie cutter
How to make a pretty, heart-shaped strawberry rose
Strawberry-Banana "N'ice Cream" via Real Food RDs
6 low-sugar Valentine's treats, hold the artificial sweeteners
7 deliciously healthy Valentine's Day treats made with fruit
7 chocolate-dipped fruit ideas that go beyond strawberries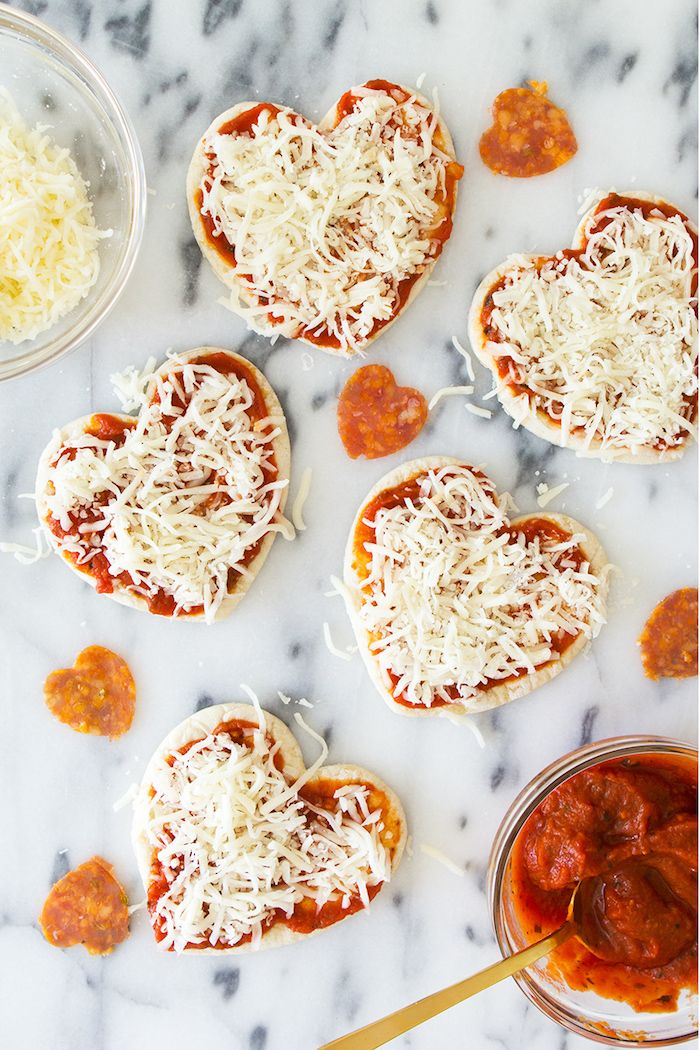 Heart-Shaped Pizzas from Sarah Hearts
Heart-shaped mini pizzas: an easy tutorial
6 savory Valentine's treat recipes for the lunchbox
8 easy last-minute Valentine's Day lunch box treats that aren't all about chocolate
Happy eating, everyone!
Top image: Carolyn V via Unsplash